Sale!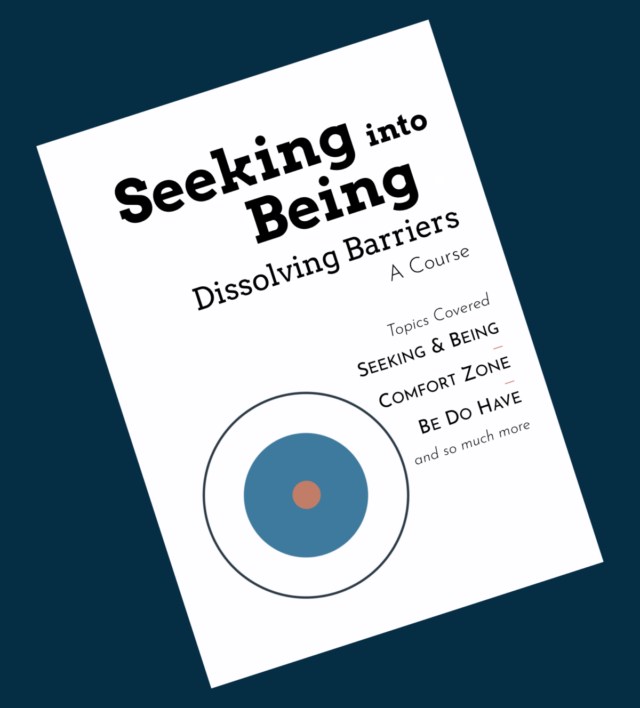 Seeking into Being
$2,345.00 – $3,986.50
Do you wake up each morning and go about your day living the life you know you were born to live? If your answer is yes, congratulations to you. We mean that sincerely. Feel free to stop reading right now. But, if you know there is more, a more you haven't quite actualized, then consider asking yourself:
Are you happy with your life?
Is there anything missing?
Do you have enough time to do everything you want?
Do you have enough money to make it all happen?
Do you have enough energy to follow through?
Or…do you find yourself seeking for ways to be happier, to have more time for yourself, more money, and more strength to keep going?
Seeking things out — looking for them — is a potent strategy of disempowerment keeping people stuck in a reality that they don't want to be in anymore. Seeking implies you don't have something and the feeling of not having something is not a nice feeling to have. So what's the solution? The solution is to unplug from the noise of the world so that you can create the space in your life for stillness and clarity.
Seeking into Being is more than a course. It is more than a community of support and guidance. Seeking into Being shows you ways to dissolve barriers keeping you stuck. It gives you space to Look within and find your answers. It is space for you to begin plugging into Your Power and supercharging your reality.
Description
Format: private and small group
Facilitators: Susan Phillips & Katherine Pisana
Private Tutelage: You take the course privately with Katherine and Susan guiding you on the journey
Duration: 12 weeks
Format: 6 in-person class sessions with Susan and Katherine (3 hours each) and 6 private counsel sessions with Susan (1 hour each)
Dates: All dates are arranged with you to suit your schedule (once you register for private tutelage, we contact you to set up your dates and times)
Small Group (up to 4): You take the course along with up to 3 other students with Katherine and Susan guiding you on the journey
Small Group Discount: 15% off when you register with a buddy
Duration: 12 weeks
Format: 6 in-person class sessions with Susan and Katherine (3 hours each) and 6 private counsel sessions with Susan (1 hour each)
Dates: All dates are arranged with course participants to suit your schedules (once you register for the small group offering, we contact you to set up your dates and times)
Course description
Let's dig into the course description by starting with some key definitions. Then we'll look at the topics and outcomes of the course and the unique way in which it's being offered.
---
SEEKING
'sēk / verb
: attempting or desiring to obtain or achieve (something)
: attempting to find (something)
: trying to discover
: trying to establish the existence of
: asking for (something) from someone
: going to or towards
: going in search of
: a concept rooted in separation (the assumption being that we must go external to our Selves to find answers to questions we know not how to ask)
BEING
'Bē(-i)ŋ / verb
: a state of how you are in the world
: a state of coming from an objective perspective disassociated from ego identification (i.e. Observer)
: Knowingness actualized in form
'Bē(-i)ŋ-ness / noun
: Isness is the State of Spirit. Beingness is Isness in form. State is Beingness perceived. It is the impression you emit and evoke through Your Beingness, through the physical expression of Spirit.
---
Topics Covered in this Course
Seeking & Being
The importance of Sacred discipline and how it can be the game changer you've been overlooking
How seeking manifests in our everyday lives
The power of words and their impact on our realities
The traditional model of education and how it prepares us to fail
A New way of Looking at learning
The Universe is a mirror. Are you enjoying what it's reflecting back at you?
Beliefs
If thoughts create our reality, beliefs are the infrastructure that keeps us stuck
Taking a Look at what beliefs are holding you back
Counter-intentions: what they are and how beliefs make us susceptible to them
Words as containers: a potent way of taking your power back
Stopping the story
Comfort Zone
What is our comfort zone?
Why do we call it a comfort zone if it just leads us into discomfort?
How the comfort zone impacts the physical body
Stepping out of the dis-comfort
Shifting from operating on autopilot and moving into Being
Cause or effect? You choose.
Be Do Have
Be: Who do you need to be to have what you want to have?
Do: What do you need to do to have it?
Have: What do you want to have in your life?
Outcomes
This course provides you with the space to:
Gain significantly greater clarity on what it means — in practical terms — to Be Spirit having a human experience (rather than being human having the occasional spiritual experience). This course prompts you to turn your focus inward and come from Spirit as you examine the way You Be in this world. Gaining clarity on what it means to Be Spirit in form is the key to breaking through the obstacles keeping you stuck in an increasingly uncomfortable reality.

With clarity on what is keeping you stuck, leverage your time participating in this course. Remove your current restrictions, speed bumps, barriers, and limiting beliefs that are in your way right now so you can enable and access a whole new level of peak performance.

Lighter and freer of restriction and constraint, develop methods that work for you to maintain and deepen your awareness of yourself and your interaction with the world around you using tools that have been hidden from the mainstream up until now. Discover strategies that enable you to consciously choose what you allow into your reality and how much abundance of prosperity you are willing to receive in your life.
HOW IT WORKS
We have designed a course that goes beyond the ordinary, beyond the traditional. This course creates the space to shift into a New way of Being so you can live the fulfilling and enriching life you Know deep down inside is available to you.
The course is divided into six main components:
1: In-Person Sessions
Meeting in person every other week for 3 hours of in-depth discussion, we cultivate an intimate community of growth together. The practice of allowing the Unknown to become Known during in-person sessions is a beautiful opportunity to exercise courage and trust to Be in this world — without apology, without hiding, and without fear of being seen.
2: Self Study
Self study doesn't mean we give you a list of books to read and then test you on how much you've learned. "Self," in this context, refers to You as Spirit. "Study" is a means of reflection and Self-Observation as you engage in the practice of Being in this world. "Self Study" is thus the practice of allowing the Unknown to become Known on your own.
3: Private Sessions
Integrated into this course is a very unique offer of private guidance that is specifically tailored to you and where you find yourself on your journey now. During the weeks we don't meet as a group, you have private 1-hour sessions with Susan — either over the phone, online, or in person — during which you examine things that may be slowing you down in life or obstacles you don't know how to get around. The clarity that emerges when you give yourself the space to take a Look often reveals things about yourself, your choices, and the life you're living that may not be easy to admit to yourself. Sometimes, a nudge can help. These privates session are a safe space to courageously Look at your own reflection in the privacy of a one-on-one conversation with someone who is very familiar with the process of Self-examination and expansion into the Unknown.
4: Webcasts
Cultivating a meaningful community of support and guidance means more than meeting for a few hours a month. It involves building trust among the community's members and trust is not a frivolous thing. Trust is built on a mutual acknowledgment that we are going through a collective experience together as a group. Trust is founded on a level of transparency in which we, as your facilitators, are fully aware and appreciative of your experience as a participant on this course. Trust comes from walking the talk and being willing to share our experiences in the same way we ask you to share yours. That's where the webcasts come in. Between our in-person sessions, we post webcasts on Facebook and YouTube in which Katherine explores important topics we cover on the course together. Examining course topics from her unique vantage points and sharing how these dynamics are playing out in Katherine's life reveals even more of the complex interconnectedness we all share.
SAMPLE WEBCAST
5: Buddy System (small group offering)
We offer Seeking into Being in two versions: a private offering and a small group offering. In the private offering, you complete the course on your own with our guidance. In the semi-private offering, you complete the course alongside up to three other students with us as your facilitators. If you are participating in a small group offering of the course, you meet your buddy during your first in-person session. Your buddy is your counterpart on the course. Once you pair up, you're asked to exchange contact details and arrange times to call or meet with your partner every other week to simply engage in conversations. What kind of conversations? Conversations with Spirit. What does that mean? It means holding Space for each other, a Space that honours each of your journeys, one that does not allow for judgment nor competition in any way. This is an exercise in Being — Be present, Be gracious, and Be compassionate with each other.
6: Online Portals
You get access to two private portals as part of this course. The first is your online course portal. In it, you'll find news and announcements about the course, and online course resources like videos and audio recordings. The contents of your course binder, for example, are in the process of being transformed into an audiobook version and that audio content will be available in your course portal once it's ready. Each in-person session is recorded as well, and these recordings will be available in your course portal for review and reflection. The second online portal you get is the one that grants you access to the recordings of all your private sessions with Susan. Any additional intensives or mentorship sessions you have in the future also get added to this personal portal. It grows as you expand further into your Unknown. How exciting is that!?
Facilitators
Susan Phillips
Healer, Quantum Architect, Life Design
Co-Founder, Conversations with Spirit
Susan Phillips has studied at the University of Cape Town and at the University of Natal. She is a multidimensional healer, a recognized Therapeutic Touch Practitioner, has a certificate in Bereavement Education from University of Toronto and a trainer facilitator designation from Jeddah Mali whose mastery of the Model of Existence has given her deep insights into how the world works. Like you, she has been on a journey seeking answers to universal question. In the seeking, she has come to realize that the only place to Look is within. Her Abilities to See patterns that keep people stuck and to guide them into removing them, helps lift the veil of forgetting thus welcoming in Higher States of Being. Read Susan's full bio here.
Katherine Pisana
Philosopher, Oracle, Life Design
Co-Founder, Conversations with Spirit
Katherine Pisana has a Bachelors Degree in Commerce and Finance from the Rotman School of Management in the University of Toronto, a Masters Degree in online and distance learning from the Open University in the UK, and a Masters Certificate in Adult Training and Development from the Schulich School of Business in York University. She combines her background of expertise with her Abilities to access multidimensional realities far beyond this physical world to create diverse opportunities to guide people through the process of remembering why they are here and then supports them through the process of acting with purposeful precision to fulfill their reason for Being here. Read Katherine's full bio here.
TUITION
Private tutelage: C$3600 + tax
Small group (register individually): C$2345 + tax per student
Small group (register with a buddy): 15% discount C$1993.25 + tax per student
Scroll to the top of the page and add to cart to register your place.
Installment plans are available. Please contact us for details.

FAQs

Who is it for?
People who know there is more but don't know how to access it.
People who want to thrive, not just survive.
People who are ready to move beyond the traditional and allow for the extraordinary.
Age
You must be at least 18 years of age to participate in this workshop.
How to prepare
Read the overview of frequency, vibration, and dimension and listen to the accompanying audio. The written portion of this piece is an excerpt from the course binder and gives you a feel for the nature of the material you'll be studying on the course.

Read about the Upper Fourth and practice this breathing technique at least once before the workshop.

Incorporate the One Breath meditation into your daily practice.

Get a full night of sleep the day prior to each in-person group discussion and private session.

No drugs or alcohol may be used at least 36 hours prior to each in-person group discussion and private session unless substances are medically prescribed.
What to bring
A notebook and pen if you wish to take notes

Layers to ensure you remain comfortable during fluctuations in body temperature
Refunds
Up until 5 days prior to the course start date, you can contact us to request a full refund of your tuition. Within 5 days of the course start date, 50% of tuition is refunded. Once the course begins, no refunds are available.
Preservation of Space
In order to ensure the safety and privilege of the Space within which We hold this workshop, we reserve the right to refund the registration of any and all who do not align with the Sacred Mandate of reclaiming one's sovereign right to return Home.
Ask yourself…
Do you have the courage to do what it takes to get out of the discomfort of your reality? Do you have the strength to take an honest look at yourself and the motive behind the motive of your actions?
You have free will all of the time, in every breath, in every present moment. How you choose to exercise your free will is the only question to ask yourself. Ready to get out of your dis-comfort zone?
Awesome! Register for the course and let's begin.
Subscribe
Subscribe to our email updates to be the first to hear of new workshops, events, and blog cast episodes.
Additional information
| | |
| --- | --- |
| Seeking into Being | Private, Small Group (buddy discount), Small Group (individual) |